Design
May, 2018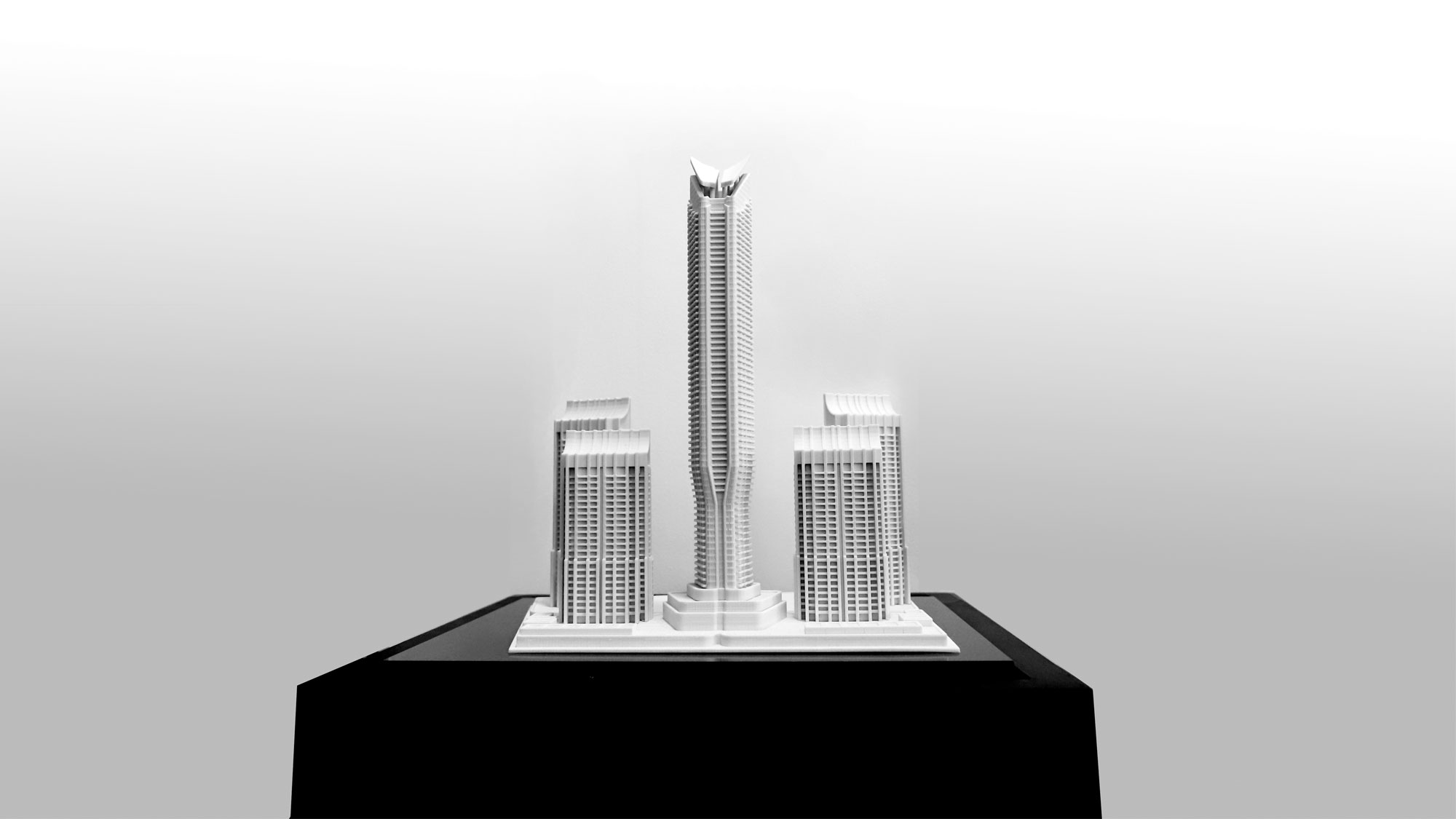 Our Involvement
The conceptual masterplan of Bay La Sun was approved and the next step was to focus on the coastal strip directly adjacent to the Red Sea to kick off the development while areas farther from the edge are left for future phases of construction. The focal point of the coastal strip is called the Coastal Towers. EDGE were commissioned to make a design for these 5 towers ranging from G+25 to G+60 in height. The layout was arranged so that all 4 surrounding towers have direct sea views while the central tower has 80% apartments with direct views.
Our Solution
In order to achieve this two innovative typical floor plans were used, one single loaded ( for the lower towers) and double loaded ( for the central tower where this approach helps increase efficiency. Taken together all the buildings have 83% efficiency meaning that despite the innovative forms, the design provides a solid return on investment.
Directly axial to the main tower is a long pier extending into the Red Sea providing dining and entertainment venues to the residents of coastal towers and Bay la Sun. This gesture reinforces the bilateral symmetry of the 5 towers as a whole. Both the central and the surrounding towers have mostly glass facades in order to provide as many clear views as possible. The floor to ceiling glass increases the appeal of the units. The central, focal, G+60 tower contains a hotel in the lower floors and apartments above. This means that the vertical circulation must be zoned for different uses both in front of house and back of house areas. Combining a hotel with apartments presents an interesting puzzle of both structural and floor plate planning requirements. The team was able to solve the vertical transportation and floor layouts in a way which optimizes the core, structure, and unit plans.
The central tower will need wind tunnel testing to understand the vortex shedding patterns of the structure. If uncontrolled, vortex shedding could lead to oscillations at a frequency which causes occupants to feel sick, making the building unusable. Luckily, since the wind tunnel testing is starting at an early phase there are still many opportunities for adjustments and fine tuning. The clean yet memorable esthetic of the Coastal Towers will serve as a beacon for Bay La Sun and KAEC as a whole. These towers will be the first step allowing the financing and construction of subsequent phases and other buildings within Bay La Sun. Bay La Sun is about to make a big impact on Jeddah's real estate market. The project changes the game of development into a high performance, high quality economic engine.