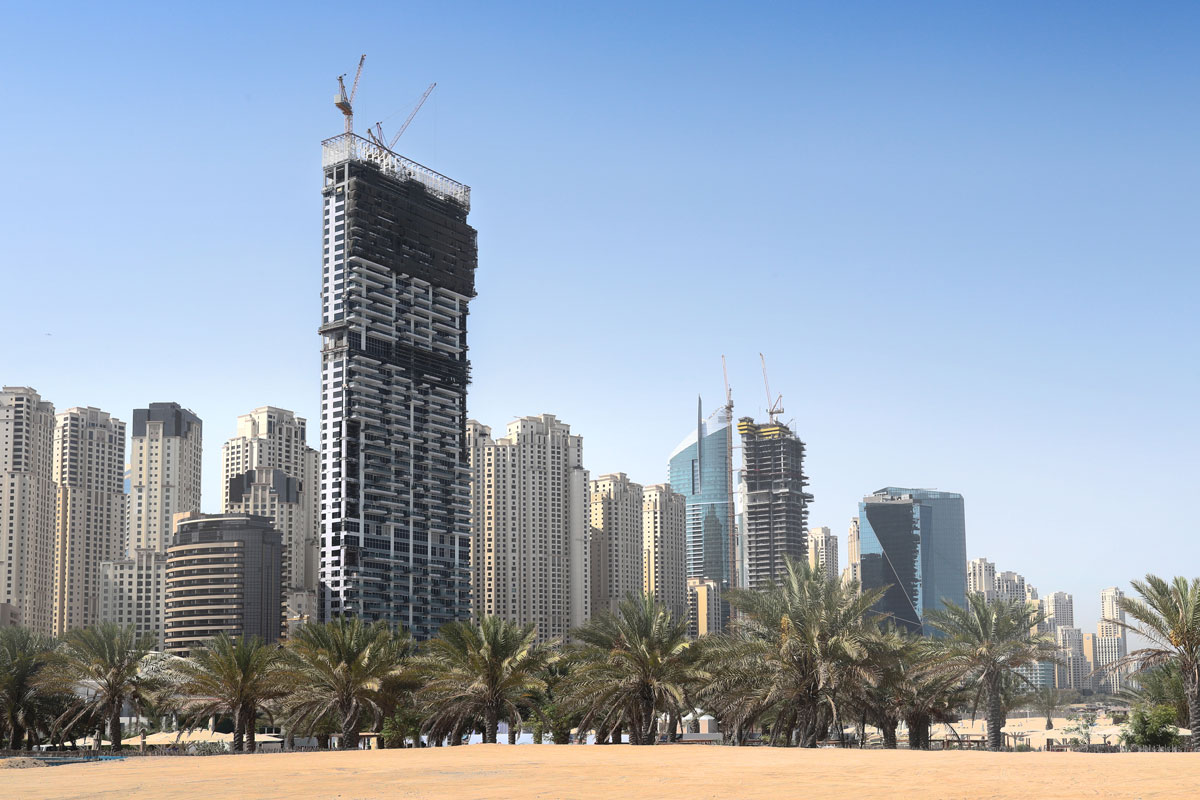 The award-winning and almost completely sold out 1/JBR symbolises Dubai's famous architectural superiority at the highest level without being ostentatious. Inspired by mankind's need for serenity, guided by the highest standards of refinement, we met the needs of users and created a timeless beachfront destination which deserves to be called your home. 1/JBR provides the best of both worlds: a vibrant active city on your doorstep and total  serenity and privacy in your home.
Located less than 150 metres from the beach in Dubai with high-end hotels as neighbors, the flagship project sets a new standard for luxury in the Gulf region. The design behind the building is guided by two main principles: clear waterfront views and pure spatial clarity.
The waterfront views are visible from every room in every unit. Residents will look out over Dubai's iconic landmarks, including Skydive Dubai, Palm Island, Blue Waters Island and Ain Dubai. From the balcony one can even see Burj al Arab in the distance. This clear focus on visual connections gives added value to the land and maximizes revenue for the developer, while providing residents with a spectacular backdrop for their daily activity.
The principle of clarity is the key to the design equation. Many other buildings are burdened with oddly shaped, cluttered, and illegible spaces. The market is full of residential buildings with overly convoluted rooms, excessive unusable space, and insufficient openness and breathing room. Comparable buildings often have L-shaped or even curved rooms and walls. While a curved wall can be aesthetically appealing, it also reduces usable floor space and undermines flexibility. As a result, apartment buyers end up paying for space they cannot use.
"Conversely, clarity-oriented design organizes all spaces as simple rectilinear rooms. The floor plans are entirely rational, ensuring that each apartment has as much usable space as possible. This is the value added by design." said Ivar Krasinski, EDGE Founding Partner and Lead Designer on the project.
The resulting minimalist aesthetic is seen in every part of the building exterior and its interior design. As a result, each space conveys a sense of serenity not commonly found in residential buildings. The rooms are designed to be open, with ideal views and uncluttered volumes.
In terms of vertical transportation, 1/JBR will stand apart from the overwhelming majority of today's multi-unit buildings. The uniqueness of the scheme comes from the fact that in the lower two thirds of the building, each elevator lobby will be shared by only two neighbours per floor. The upper third of the building will provide each owner with a private elevator lobby – as soon as they leave the elevator, they are home. This will allow owners to decorate their elevator lobby as they see fit, expressing their unique personality. This strategy, in combination with smart elevators and access controls, will provide much greater privacy than anything else on the market.
Thanks to the above strategies, 1/JBR offers the best possible use for one of the UAE's few remaining prime Gulf shore sites. Construction is now underway; when completed in 2019, the building will set a new standard for luxury in the Gulf.